Until today, more than six million guests have visited our dinosaur park in Kleinwelka, making the park one of the most well-known theme parks in Germany. It is a success story that began more than 30 years ago in a little garden in Upper Lusatia.
From an insider tip to a visitor magnet
The story of Kleinwelka's dinosaurs started out in 1978 on the property of the sculptor Franz Gruß (1931–2006). Gruß had a particular passion for dinosaurs, which he brought to life in an impressive manner with sculptures he built himself and exhibited on his property. Based on scientific models and two-dimensional drawings, and thanks to his excellent skills as a craftsman, he thus created dinosaurs which looked true to life. At first, people made fun of his passion and his garden design, which was, after all, quite unusual. But that didn't stop word of the dinosaur models soon spreading and a visit to his garden becoming an insider tip.
By 1980, Franz Gruß had created 25 dinosaur models. As their numbers rose, so did the number of visitors and the press interest in the primeval giants in his garden – which was soon too small for them. Quickly, a new place was found to add to the collection: the park right by the garden was turned into the dinosaurs' new home, and redesigned for that purpose in 1981.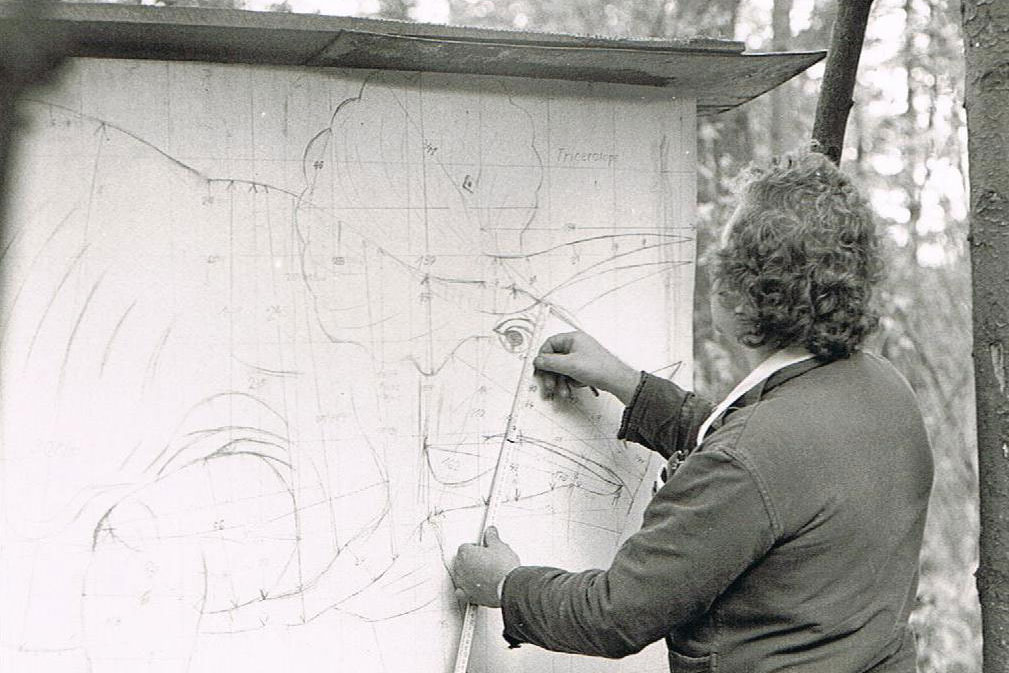 New times and new worlds to explore
Franz Gruß retired from the dinosaur park in 1991, after which the sculptor Thomas Stern took over his work in 1994. And a further ten years later, another era in the development of the themed adventure park dawned: in 2001, the company Beteiligungs- und Betriebsgesellschaft Bautzen mbH took over the site, pushing through additions to the park in the form of numerous attractions. In the very first years this included the huge Climbing Zone, a Research Camp where visitors can themselves excavate a T-Rex skeleton, or the Universe, which turns visitors of all ages into real, live space explorers.
Shortly afterwards, work started on building the "Realm of the Giants". Here, visitors can have a hands-on, up-close experience of dinosaurs from the Jurassic Period. These were followed by the giant slide, the Dinorama, an extensive climbing zone including an eight-metre-high wall – and since 2011, the "Galactic Nebula" has developed into a particularly refreshing attraction on hot summer days. Thrillseekers enjoy the Lost World, an abandoned research lab. The "Mitoseum", opened in 2017, with the neighbouring themed "Primeval Soup" zone, has further highlights on offer.
The dinosaur park today and beyond
Today, our park is populated by more than 200 dinosaurs, and new primeval giants and new attractions are constantly being added. In this process, the dinosaur park always makes sure to offer visitors an eventful, entertaining mixture of play, discovery, exploration and adventure – in the hope of inspiring an interest in our Earth's early history among children, teenagers, families and school groups for many more years to come.